Joined

October 22, 2021
Messages

2
Reaction score

1
City, State

DC area
Year, Model & Trim Level

91 Explorer XLT #1 Manual
Am a long-time reader of the posts here. Between this website and a few others I was able to keep my 1991 Ford Explorer running. Thanks to all of you who posted valuable tips in keeping these glorious chrome fendered Explorers alive.
Now it is time to find my Explorer a good new home. He has a long and illustrious history which I have listed on eBay. Pretty easy to find since "Chuck" is the only 1991 Ford Explorer listed.
His claim to fame is he was the first manual transmission Ford Explorer ever built. The first. Ever.
The original owner worked on the Ford Motor Company of Canada advertising account. The President of the company liked the work this agency was doing, and offered the folks there an employee discount for any car they liked. This guy wanted what was then the not yet released Explorer, and he special ordered it as a manual transmission. It took more than three months between the time of his order and the time his Explorer was built. As he heard from the President of the company at the time, whom he got to know fairly well, the wait was so long because Ford was manufacturing automatics first. By the time they got to this guy's special order, in late June 1990, it took an extra long time to assemble since this was the first manual transmission Explorer they ever made. And, seeing it as such, the folks in the plant where it was assembled used this car as a training tool so their employees could learn how to properly assemble more manual transmission Explorers that were sure to be ordered. When delivered in July 1990, he was promptly given the name "Chuck." I purchased him from the original owner, a family friend, in 1998. Want someone to purchase this car who will appreciate his significance.
Here are all the details:
"Chuck" may have been the 77,371st Ford Explorer off the assembly line on June 28, 1990, as can be seen on the stamp under the hood, however he was #1 when it came to ever having a manual transmission. A true rarity to begin with in this model. "Chuck" may very well be the king of the Explorer unicorns.
Consider this: according to Wikipedia, 7,838,472 Ford Explorers have rolled off the assembly line as of the end of the 2020 model year. That makes "Chuck" one of the top 9/10ths of 1% of all Ford Explorers ever produced. And, among the manual transmissions, he was the first to be built.
"Chuck's" original owner used him as a daily driver, and took good care of him. On May 9, 1998 I purchased "Chuck" knowing his history and kept him going strong with regular maintenance, oil changes, and repairs. For the next fifteen years or so, I drove him regularly. Starting in 2013, I started using him more sparingly. In 2016 we went on our last ride. Have kept him clean for these last twenty-three years knowing how special he is.
Another distinctive feature is "Chuck" was made for the Canadian market and features metric measures as can be seen on the odometer which has measured "Chuck's" progress in kilometers: 326,499.2 and counting (equal to 202,877 miles). This is quite something since 1991 Explorers made for the U.S. market roll over their odometers at 99,999.9 miles. "Chuck" has no such limitation. Please note: in his June 3, 1998 title, when I took ownership of "Chuck," he had an odometer reading of 211,280 kilometers. And there is no need to worry - his speedometer features both MPH and KPH.
"Chuck" passed motor vehicle emissions inspections regularly, and was registered as a classic car through June 30, 2020.
Please see more detailed description of the car below. Did my best to list all of the known history of this car. If you have any questions, please ask. Sold as is, and where is. Does not start and cannot be driven. Needs new battery cables (not included) and ???. No warranty is given or implied. Needs to be towed on a flatbed truck from Maryland suburbs, north of Washington, D.C. Cannot be towed by two wheels.
Recent mechanical history:
Please note: "Chuck" has not been driven much in the last eight years, and not at all since 2016. He will not start. Other than the need for new battery cables, I am unsure if there are other issues.
Had the manual transmission replaced by a local transmission shop in approximately 2007.
Provided regular oil changes.
New alternator and cooling fan blade in June 2011.
New starter relay in 2017.
New tailpipe and muffler in March 2011.
New pads (front and back), new rotors (front), new/reconditioned rotors (back), new calipers (rear), and drum (rear) in March 2011.
New radiator, radiator hoses, ignition cables in March 2011.
New shock absorbers circa 2011.
Body:
"Chuck" has his original burgundy paint, and it is in overall very good condition for his age. As is typical for Explorers, "Chuck" has rust on the rocker arm panels and dog legs, at the bottom of the rear hatch, some under the hood, and near the gas cap. Did not look underneath him.
Bonuses:
"Chuck" will come with these extras:
*"Chuck" is ready to rock the twenty-first century with an installed Pioneer DEH-P5200HD CD Receiver. Yes, you can rock the block with an HD radio with USB port. It sounds terrific!
*Original rear cargo shade.
*Original wheels.
*The nitrogen filled tires were replaced a few years ago and have barely been driven on. Note: the tread is great, however there are visible cracks in the tread area, the sidewalls look fine.
*Original spare tire, likely a recalled Firestone Wilderness HT,
*A barely used, high quality battery from 2017.
*New OEM left and right power mirrors (included separately, require installation).
*A replacement driver's door handle (a new OEM one is included, requires installation).
Items needed:
*Must have new battery cables.
*Unknown if other items need repair/replacement to get him started.
*May need other repairs I am unaware of. Am not a mechanic and cannot diagnose issues. Being sold as is, where is.
*Rear driver's side power window needs to have three plastic bearings replaced so it will open and close. All other windows have had the repaired made to them…a rather simple fix.
*Two new lifts for the rear window (lift gate works fine).
*May need to have a dealer install two additional reinforcement brackets to the rear bumper based on March 1991 recall. Note: Chuck has a very rare U-Haul hitch installed. This was done before the recall happened. Ford would only install the brackets if the U-Haul hitch was removed. Since I never wanted to tow anything, I left it alone. If you are considering towing anything, take it to the dealer for the repair.
Quirks:
*Benefits from several good squirts of silicon spray after every oil change in the pull rod under the "4.0L EFI" intake top cover under the hood. To access, turn the truck off. Remove the one screw holding the "4.0L EFI" cover in place. Have someone depress the clutch pedal several times, while someone else squirts the silicon spray on the moving rod. Give it a good dousing. Note: the "4.0L EFI" intake top cover under the hood has a small crack in it where it bolts to the intake. Does not affect it. Just a cosmetic issue.
*As is typical with 1991 Ford Explorers, the air conditioner is underpowered and has a leak. If necessary, a recharge of the refrigerant will give you cold air for a few weeks. I just kept the windows rolled down.
*Rocker arm panels (areas under doors) and dog legs have rust and could be replaced.
*Headliner in back near lift gate has two tears in it: a "V" shaped tear in it approximately 1 1/2" on each side, and another approximately 3 1/2" x 5".
*Gasoline gauge is quirky. Was told the issue is in the steering column. Putting the key in the ignition and turning it opposite of the starting position can give you a semi-accurate reading.
*Needs new plastic foot pedal covers for accelerator and clutch.
*Hood heat barrier could use replacing.
*Rear seatbelt receivers are tricky to use.
*Right rear passenger door has a loose armrest that needs to be reattached.
*Replaced rear view mirror since the original was too small.
*Was once fitted with an alarm. On the bottom center of the gray dashboard, near the steering wheel, there is a receiving unit, about 1 1/4" high and 2 1/2" wide. Had it disconnected years ago.
*May need to check the Daytime Running Lights (DRL) control module. There is some flickering in the cabin when the dashboard lights are on and the headlight knob is actively turned. More a curiosity than anything.
*Had a car phone installed back in the day. Can still see the podium it was attached to. Phone is long gone and not included.
*Car radio antenna is a bit crooked.
*With the hood up, there is a clutch fluid reservoir at the far right against the body. It looks like a white plastic cup with a screw on lid. This contains brake fluid for the hydraulic clutch. You need clean brake fluid in the cup. To fill, unscrew the cap carefully. There is a black rubber diaphragm under the cap. Carefully lift the diaphragm out of the cup. Fill white plastic cup to mark (do not overfill) with clean (new) brake fluid. Replace black rubber diaphragm, making sure no fluid spills into it. Replace cap and screw on tightly so no air can get in. I will include a brand new clutch fluid reservoir for the buyer.
Once again, this is a unique opportunity to purchase a rare 1991 Ford Explorer XLT with a manual transmission. While he does not currently run, with some work, he will be back on the road with you.
Thanks for looking. Please bid on this terrific vehicle, and give "Chuck" a good new home!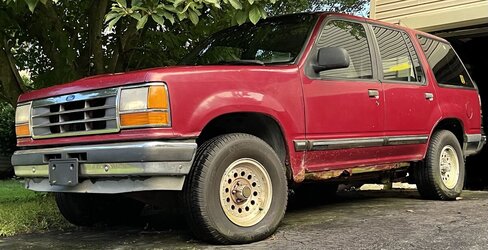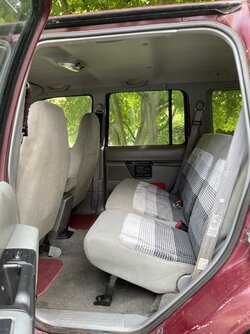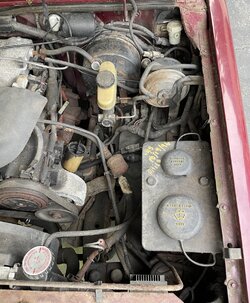 <