Truck Season!!
Staff member
Moderator
Elite Explorer
Joined

August 3, 2000
Messages

29,298
Reaction score

5,858
City, State

NORTH IDAHO, 7B
Year, Model & Trim Level

B2 "Slightly" Modified
Callsign

FOURTEN
410 fortune - 5.0L EFI 4R70W drivertrain conversion SUCCESS!!
Okay here we go....
1988 Bronco II Eddie Bauer 4x4
previous 93 4.0L OHV conversion
previous 5 speed to A4LD conversion
My second A4LD rebuild went out after only months of service
(Edit: this I will later find out to be false, the Transwerx auto A4LD is still going in RangerX's Explorer, what I thought was a bad issue with the transmission actually ended up being a blown ring and pinion in my rear 8.8 axle)
I think the 4.0L OHV engine is perfectly suited to motivate the BII chassis, unfortunatley the only wise automatic transmission choice (IMO) is the C4 automatic. I am unwilling to give up my overdrive because I drive my truck as much as possible and on long trips. I plan to keep my BII as long as possible, I past the point of no return years ago.
So I purchased the complete drivetrain from a 97 Mercury Mountaineer with 53K on the clock. truck is equipped with 5.0L EFI OBD-II engine and 4R70W automatic transmission. Transfercase is AWD and will be removed in favor of a low range case.
My truck has gone from a speed density 2.9L 60 degree Cologne V6 and Mitsu 5 speed to a 93 pushrod OHV 4.0L and Mazda 5 speed. the wiring was completely cuastomizer to fit the truck and include accessories wired into the 4.0L power distribution harness.
The truck was then converted to a automatic using a 93 A4LD, (rebuilt), 84 BII floor shifter, and BW 1354 t case.
Soon after the 4.0L a 97 31 spline 8.8 was installed and a complete disc brake conversion was performed.
A custom turned dana 35 lift is up front, both diffs with 4.10 R&P, Ford L/S in 8.8 (rebuilt) and ARB up front.
The wiring for the new OBD-II system will be incorporated into the current 4.0L OHV power harness with the trans and engine 5.0L computer added on top.
Currently the 4.0L is out, all systems are out sans steering and braking.
Firewall is being repaired (rust), pinch weld has been bent back (sledge hammer) and engine compartment is ready for paint.
I have the L&L engine mounts in hand, this weekend the 5.0L gets dropped in for trial fit. This week I will notch heater box and purchase oil filter 90 degree relocation kit.
The 5.0L will remain factory for now, using the stock explorer manifolds and as much of the exhaust as possible (4 02 sensors). The engine will get a full tune up, I will use the alternator from the 4.0L (new 130 amp), I will retain A/C, and all full EEC-V conversion will work with factory style gages and systems.
Plan is to be running by Feb
more to come.....
93 4.0L OHV ready to come out, approx 200+K miles on block, runs like a top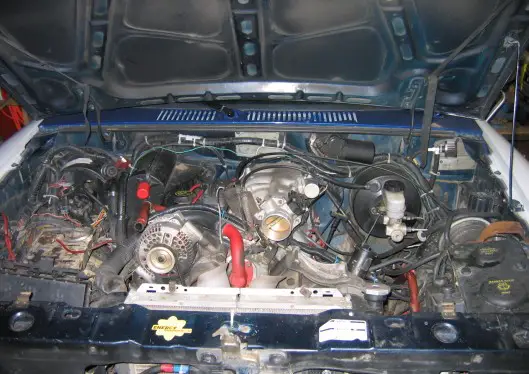 New 97 5.0L (97 Mercury, 53K miles)sitting next to 4.0L:
New 4r70W trans and AWD case (53K miles)
Truck ready for power wash and engine bay refurbish:
Update 01-09-05:
Okay so I trial fit the L&L engine mounts and the 5.0L efi engine this weekend.
The 97 Explorer oil pan will not work with my engine mounts and engine crossmember. I have clearance problems with my James Duff axle pivot bracket and also the superlift superrunner steering idler arm bracket.
I am not sure the Explorer IFS oil pan would work even without these brackets on the truck.
Search is on for a oil pan that will work.....
Firewall and engine bay have been powerwashed, scuffed up and ready for paint. Heater box preperations have begun however I cannot finish this until the engine is bolted in for measuring. It is a tight fit along the trans tunnel and heater box without a body lift...