Okay here we go 09/13/05
In march of 05 I rolled my new to me 96 5.0L AWD 86K miles, just after driving it back to CO from OR and putting $1000 into it. You see I bought this truck from my brother with 86K miles on the clock, it would not pass emissions for him and he drove it into the ground. This was the same explorer he bought new when I got the BII from him for $500 12 something years ago.
Well I payed him $500 for the green Explorer and $1000 later (shocks, tune up, 02 sensors, etc) it was in primo condition. Then I rolled it in an ice storm...
RIP 96 EB:
So in April my buddy Brett found this great deal here in town for a 96 XLT 5.0L AWD, $900 is what I paid, it has front end damage and air bags deployed, picked it up from a fellow board member: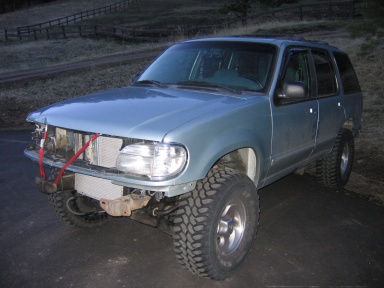 After the wreck the owner put in a new radiator and battery so it could be driven.
The truck has sat since April of this year, untouched, until this morning.
I have been preparing my new garage to accept my new project, and well she's ready, so today is the day I am driving this truck home.
To my disbelief this truck had no problem and started right up after sitting since April!
Here are some "before" shots:
Font end damage, sagging T bars, new rad:
No airbags, interior is in great shape! (just needs TLC):
Rear:
It has some "issues". Like steering extension is rubbing the manifold (3" body lift), no dipstick:
No fan, No ac condensor, and no trans cooler:
This is a 1996 5.0L AWD XLT with 151K miles on the clock.
Truck is loaded with sunroof, leather, tint, etc.
Previous owner installed 3" body lift and 33" tires.
Alot of things have been "rigged" but it runs and drives fine!
I will be completely removing the front clip, everything except the frame and inner fenders will be cut out. The entire drivetrain will be pulled (too many miles), the entire front end will be fixed, new bushings, bearings, new steering rack, torsio bar twist, shocks, brakes, etc.
the body lift will be fixed and or reduced to 1-2". the rear bumper will be re-located.
The drivetrain from my green 96 will be installed into this truck, along with alot of other "donor" parts.
The front clip will then be replaced using factory metal replacements, welding in new rad support, and then prepped for paint.
truck needs new windshield, airbags, and alot of TLC.
My long term plans for this truck include: "long travel" 4x4 IFS suspension lift (dixon bro's Camburg, etc). Stereo, tow package, SOA, low range T case, and custom everything else.
This is my "other" baby, and in keeping with tradition she will have the heart of my brothers old truck, just like the BII was his and run into the ground, so was "part" of this one.
Still no car payment after 12+ years.