Moderator/Technician
Moderator Emeritus
Joined

January 26, 2004
Messages

6,162
Reaction score

8
City, State

Mechanicsville, Virginia
Year, Model & Trim Level

2004 Acura TL
Axles 101 Part 1:
All 4x4s have axles and we abuse them in every way we can, while changing parts on them is what we do best so we can overcome those steeper hills, turn those bigger tires, and to crawl right on over those huge boulders.
In this write up you'll find out a lot of good information. It is so you can understand axle parts and in some aspects understand how they work together. I will cover in this post Independent Suspension Axles, Solid Axles, the guts of these axles, differentials, ring and pinions, high pinion and low pinion, and carrier options. Granted, most of this stuff will pertain to off-road use; but it's very generic.
Part I: The Axles
So you think your all bad and can handle any terrain in your 4x4 SUV/Truck? Well, a lot of things have to work together so you can use that 4wd option. There are two types of axles used today: Solid Axles (common for off-road use), and Independent Axles (used more often to smoothen ride).
Independent Axles
– ISA (Independent Suspension Axles) are used in the front-ends of our Explorers which is referred to as IFS (Independent Front Suspension). Our front differentials are Dana 35s. First Generation Explorers (also called Swing-Axles and TTBs) are reverse cut while Second Generation Explorers are standard cut (I will explain this more in depth below). When people think of ISAs they concluded that the axle moves independently. Well, what exactly does that mean? The actual axle part of the IFS system is mounted stationary to the frame and has half-shafts (CV-Axles) that come out of the axle to the spindles which drives our front wheels. With the half-shafts they are able to act independently from one other which causes a smoother ride. Independent Axles also allow for greater ground clearance when compared to a Solid Axle.
Solid Axles
– Solid Axles are commonly used up front on heavy duty trucks (Super Dutys, 3500s, etc.) while being used a great amount in the rear ends of SUVs and smaller trucks (Rangers, F-150s, etc.). Solid axles are the most basic type of axle (also known as straight-axle). Solid axles attach the wheels from side to side solidly in such that when one wheel articulates (moves up or down) the other wheel either moves in the same or opposite direction. These axles are mounted to the frame via springs (coil, leaf, etc.), allowing the entire axle-housing to travel up and down with the tires following.
Part II: Axle-housings
There are two type of housings used on Solid Axles; Integral Carrier and Removable Carrier. One good way to remember is that integral housings have a cover while removable carrier housings are two-piece housings.
Integral Carrier Housing
– Usually consist of a cast center section with axle tubes pressed in that are them plug-welded or riveted through holes in the center section. In these housings the differential (Carrier, gears) must be assembled within the center section and is supported by the two carrier bearings which clamp the carrier into the housing. These are used in our Explorers – both the Dana 35s (2nd Gen.) and the Ford 8.8".
Removable Carrier Housing
– Commonly a stamped or forged steel assembly that a cast third member, which holds the gears and differential, is then bolted into. Commonly found in Toyota trucks as well as Samurais. Most common however is the Ford 9-inch. It is lightweight, yet not usually as strong as a comparable integral carrier style unit. They can be made very substantially if built up correctly.
Part III: Ring-And-Pinion
Within these housings are ring-and-pinions which are commonly called a gearset. The pinion gear is attached to the driveshaft via a u-joint and pinion flange, and turns at the same speed as the driveshaft while supported by two or three pinion bearings. At the end of the pinion gear are teeth which mesh with the teeth on the ring gear which is attached to the carrier. The ring gear turns at the same RPM as the tires, and ratio of the number of gear teeth on the pinion to gear teeth on the ring gear determines your ring and pinion ratio. Gear ratios are in reference to one rotation of the engine. Using 4.10:1 as the example, the engine torque in one rotation of the driveshaft is applied to turning the tires just 1/4.10 of a turn or about 25 percent of the revolution. Basically, the higher the ratio, the "lower" the gear is said to be, such as 5.13:1 is consider "lower" than 4.10:1 due to the fact that it offers more torque multiplication, similar to how low range offers more torque multiplication then high range in a transfer case. Now, this is very confusing to some so I will leave it at that – but the most common issue with changing gear ratios is speedometer misreading and engine RPMs are either faster or slower.
Part III Sec. A: Reverse Rotation vs. Standard Rotation (A.K.A. High vs. Low Pinion)
If you are confused at this point you may want to skip over this one. Get your mind set and then try to come back. More common standard rotation ring and pinions have a helical-style cut that delivers maximum strength when located in the rear axle of a vehicle. This is because the teeth on the ring gear are cut with a "drive side" designed to take the loads better than the "coast side" or backside of the teeth, but it also results in lower pinion design with the pinion below the centerline of the axle tube. This is less desired setup in a front because the ring gear is now being turned on the weaker "coast side" of the gear (Pictured below). A reverse rotation gearset is cut in the opposite way, making it stronger when used in the front because it is now running on the driver side of the gear, plus it'll have the more desirable high-pinion design with the pinion engaging the ring gear above the axle centerline (axle tubes). However, each of these gearsets require its own specific housing center section, so you cannot put reverse-rotation gears in a low pinion housing and vise versa. And don't think about turning your low pinion housing upside down thinking it'll be high pinion. It will actually make the tires turn backwards. A reverse rotation axle is stronger in the front of a 4x4 than in the rear, a standard cut axle is stronger in the rear of a vehicle, and turning a low pinion axle upside down does NOT make it a high pinion.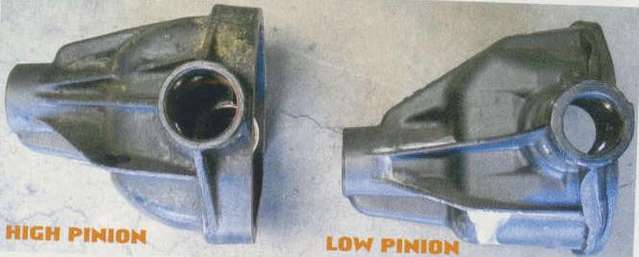 Part IV: Open – Limited – Spool
Within the center section the ring gear is bolted to some sort of differential. This differential can be Open, Limited, Locked, or Spooled. When your 4x4 vehicle is making a turn on hard pavement, the inner and outer tires need to turn at different speeds; yet when off-road you usually want the tires to be locked together so that both can help pull the vehicle through obstacles.
Open Differentials:
These are the most common differential found in factory equipped vehicles. Why – gas mileage. These are the most effective when it comes to dealing with gas mileage. However, the design is to allow the tire with least resistance to get the power – so when you're on that ice rink and you're wondering why only one wheel is spinning – you know why now.
Open Differential:
Limited Slips:
A common differential setup found in high performance (Mustang, Fx4 F-150s and Trucks, etc.) vehicles. These allow the axles to be somewhat locked together (temporarily). While in corners the clutches inside the differential allow the wheels to run at different speeds so you will not have wheel hop or any type of "ratcheting". When going straight the clutches engage and the friction helps keep both tires turning and receiving equal torque even when one has less traction. However, if one tire has no traction and the torque input coming down the driveshaft and the traction of the tires combined is more than the clutches can handle, it will go back to operating like an open differential and send the power to the wheel with the less traction. Most limited slips often require a special additive to gear oil (except if running synthetic fluids), and the clutches will eventually wear out over time.
Limited Slip:
Lockers:
A locking differential is designed to ensure both wheels receive equal amounts of torque no matter how much traction either wheel has. There are two types: Automatic and Selectable. Automatic uses gears to engage when torque is applied yet allowing some difference in tire speed during cornering (a ratchet sound). Selectable lockers offer the driver the ability to either lock the differential together via cable, vacuum, airlines, or electrical switch. It acts as that of an open differential until selected to be locked, which is great for street and off-road use.
Locker:
Spools:
Are the most basic type of differentials. Though it shouldn't even be called a differential as it doesn't allow either wheel to spin at different rates, but we'll go on. Spools basically lock the wheels together without any internal gears which is why it doesn't allow for different speeds in cornering. Spools have less parts to break, but are not recommended for street use, since they will chirp and scrub your tires all the way home. Many low-budget wheelers weld their spider gears of the open differential into a solid unit, basically forming a spool.
Spools: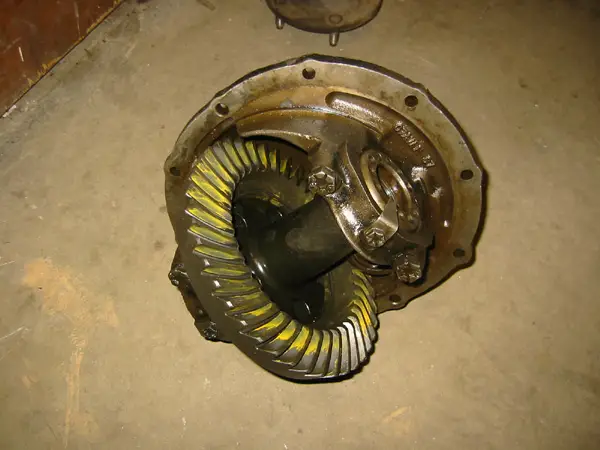 Other Links:
Axleguide
- Find Out Which Dana You Have (Written by Peter Westling)
More Information On LSD (Limited Slips)
How Differentials Work via HowStuffWorks
Information on 4x4, AWD, T-cases
Reprogramming for Tire Size and Gear Ratios
Diagnosis of Driveshaft and U-Joints Problems
Helpful List of Carrier Breaks
Hope that helps out some people. I will be making a second Part to this soon. These type of post take a lot of time and effort - so please bear with me. Please post any information you would like to add. Part II of this thread can be found
here
!
-Drew
Disclaimer:
This article had some help from Peterson's 4-wheel and Off-Road magazine. This is not completely MY article, but
a lot
of the information is from me.