Moderator/Technician
Moderator Emeritus
Joined

January 26, 2004
Messages

6,162
Reaction score

8
City, State

Mechanicsville, Virginia
Year, Model & Trim Level

2004 Acura TL
Axles 101 Part 2:
So you read part one and wanted to know more? Well what else could there be? Oh – we have just begun, my friend. This part will go deeper into the internals and will take about what actually turns the tires.
If you need to review, please refer back to the last Axle 101
here
. Now, that we all know what a solid axle is; we need to understand exactly what connects them to the wheels/tires. This is what we call axleshafts; we will also talk about full floating axles, semi-floating, hubs, knuckles, stub shafts (half shafts), ball joints, kingpins, and bearings. Let's get started!
Axle Shafts
These run along the inside of the axle tubes (tubes connected from the differential to the spindle/knuckle) and attached the inners of the differential to the actual moving parts on the knuckle that turn the wheels. Axle shafts are very rarely the same size in length side to side; even on the rear axles that are centered. The job of the axleshaft is to turn, yet also allow some bit of twist in order to counteract aggressive torque being applied to them. They are similar to our front suspensions with Torsion Bars.
Different Size Axle Shafts:
Inner Shaft and Stub:
Inner Shaft:
Splines
Axle shafts have splines on one side while having a mounting flange (usually where wheel studs are located) on the other. The reason for the splines is to give the differential something to grab onto to turn the axle shafts while it turns the tires. Axle shafts are usually held in by c-clips or retainers. There are two types of splines: cut and rolled. Rolled splines allow for great strength over cut splines.
Cut Splines and Rolled:
Cut Splines: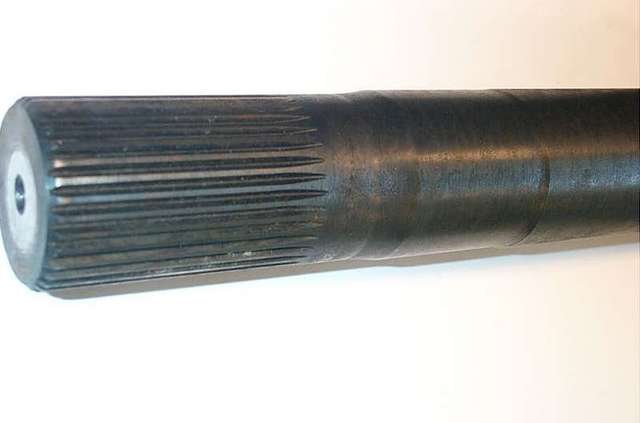 Floating or Semi
A full floating rear axle is engineered to support the most weight possible. These have a spindle on the end of the axle housing and a hub that has the wheel studs pressed in and is supported by two bearings on the spindle. Most of these axle shafts are one piece with the flange that bolts to the hub and splines at the other end and they are commonly found under ¾ and 1-ton trucks.
Semi-floating axles don't only transmit the rotation of the ring gear, but also bolts directly to the wheel. These axles are usually one piece axles or also known as flanged axles, with a forged flange as an integral part of the axleshaft. Common semi-floating axle is the 8.8" rear end.
Full Floating 9":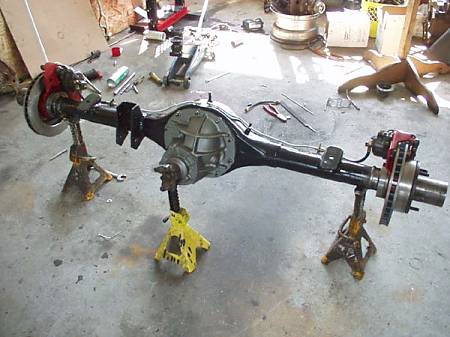 Semi-Floating Rear Axle:

Knuckles and Hubs
There are two types of Knuckles: Open and Closed. Open knuckle allows you to see the U-joint. Open knuckles are the most common. These knuckles consist of steering mount points, movement points (ball joints/kingpins), brake components, and a flange for the wheel to mount to. Knuckles are what pivot on the front axles that allow our vehicle to turn in other directions. Closed knuckles look like a giant steel ball at the end of the housing around where the knuckle rotates. Within the closed knuckle is either a U-joint or a CV-Joint (constant-velocity). Most imported straight axle 4x4s has a constant velocity joint. Closed knuckles are beneficial in muddy or water terrain as it will protect the axle steering joint.
Closed Knuckle:
Open Knuckle:
Hubs are what lock the axles in 4wd. There are selectable hubs and auto hubs on Explorers. The selectable hubs (aka manual hubs) are stronger compared to auto hubs. Manual hubs allow you, after you lock your transfer case in (via electric motor or manual linkage), to then lock your front wheels into 4wd. Main reason for manual hubs is to get rid of many "on-road downfalls such as always turning and wearing on the axle shafts, joints, and differentials. With all the added drag of spinning all these parts in the front axle – there are going to be a decrease in fuel economy. Eventually selectable hubs came along that required you to step outside and turn a knob. This allowed for less drag and wear in the driveline, while increasing gas mileage. Along after that were auto hubs which engaged the front tires when torque was delivered from the transfer case, and then when you shifted back into two-wheel drive they would either unlock or require reversing the truck a short distance to unlock. Some automatic hubs are vacuum operated (like on most Super-Dutys).
Manual Hubs: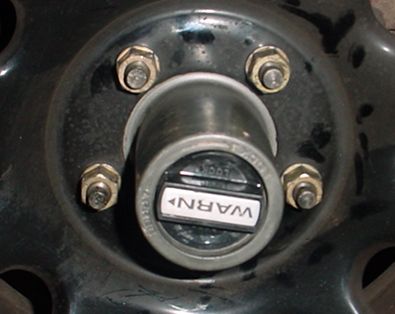 U-joints and Constant-Velocity Joints
All axles use axleshafts – obviously. On front axles the axle shafts have an inner long side and an inner short side which then connects to stub shafts (which go into your knuckle). Well, these shafts are connected via a U-joint or CV-Joint. A u-joint is a steel cross that connects the yoke of a inner shaft to the yoke of a outer stub and has either roller needle bearings or bushings within caps. A CV-joint consist of a stub shaft that has a bell-shaped end with grooves for large ball bearings to ride around inside. As a u-joint rotates it will actually slow down and speed up due to the fact that it can only pivot on two axes. A CV-joint will stay at one speed no matter how much angle is put on it (but not too much angle). Constantly Velocity Joints are used commonly in IFS systems.
CV Joint:
U Joint: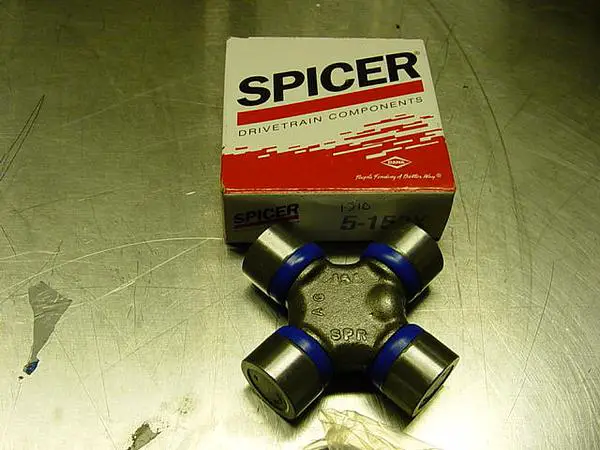 Bearings
There are bearings in the axles that the axle shafts ride on. There are two types: Fixed Spindle/Bearing and Modern Sealed Unit Bearings. The real main difference between the two are that the modern bearings are considerably narrower (width wise) than the fixed bearing. The 95-01 IFS Explorers have these modern bearings and usually cost more to fix/replace.
Modern Bearing:
Ball Joints and Kingpins
Ball joints and kingpins are what the knuckle rotates on. Ball joints are consist of a metal case that is crimped around a ball that has a threaded shaft protruding from it, while a kingpin is a solid pin that either a bushing or bearing rotates around. Many feel that kingpins are stronger, but no real proof has shown for it. Both are very strong. Kingpins are usually found on your 1-ton axle applications.
Ball Joint:
Well, that wraps it up for this one. This is the last Part of Axle 101! If you have any questions please post it in either Threads. Please try to keep it pretaining to the actual thread. If you want to talk about axle tubes or IFS, talk about it in the other thread, which again can be found here:
Axle 101 Part I
-Drew
LINKS:
Rebuild 4x4 Shift Motor
DeRocha's U-Joint Replacement
Axle Codes
Disclaimer:
This article had some help from Peterson's 4-wheel and Off-Road magazine. This is not completely MY article, but a lot of the information is from me.