Fredness - '05 Sport Trac 4x4
New (to us):
2005 Explorer Sport Trac Adrenalin
Purchased from dealer (lease return) in Sept 2009. 66,000 original miles, minor scratch damage, 1 "wreck" with no evidence of body work, good CARFAX, dealer maintained (full records). The original window sticker, dealer sticker and owners manual (with the Road Service Card) were in the glove box! No CEL, Good Emissions test and 16MPG City/19MPG Highway/14MPG E85.
Brakes, Suspension and "Shoes":
Hankook Tires Dynapro MT RT03 LT265/70R17 on 17x8 Unique 297 Matte Rims, black centers and Gorilla Lugs
Hawk LTS Pads (StopTech Pads were full of fail)
Powerslot Cryo Treated Rotors (x4)
Rancho RS5000 shocks (x4)
Drivetrain:
4.0L SOHC
5R55E Transmission
4.10:1 Gear Ratio Open diff
Interior:
Grey Leather
Center Console
Moon Roof
Power everything
Tunage:
Adrenalin Pioneer Sound System (510 watt) with Subwoofer
Upgraded with:
JVC HDR70 Headunit
Volsmart 7 inch Android 5.1.1 Car Stereo Lollipop Quad Core 1024600 (Aug 2016)
Polk Audio DXi6501 front speakers (custom carbon fiber adapter plate) (Aug 2016)
Soundstream PN5.640D Picasso Nano 640 W 5-Channel Class D digital Car Audio Amplifier (Oct 2016)
Polk Audio DB571 rear (Oct 2016)
Pioneer TS-SW2002D2 8-inch Shallow-Mount Subwoofer (Aug 2017)
Kenwood - 6.8" In-Dash CD/DVD Receiver Model: DNX574S with DRV-N520 Dash Cam (Jun 2018)
Before:
P245/65R17 tires and 17" Moto Metal MO956 Chrome rims
Catback (Unknown with dual tailpipes)
Mods: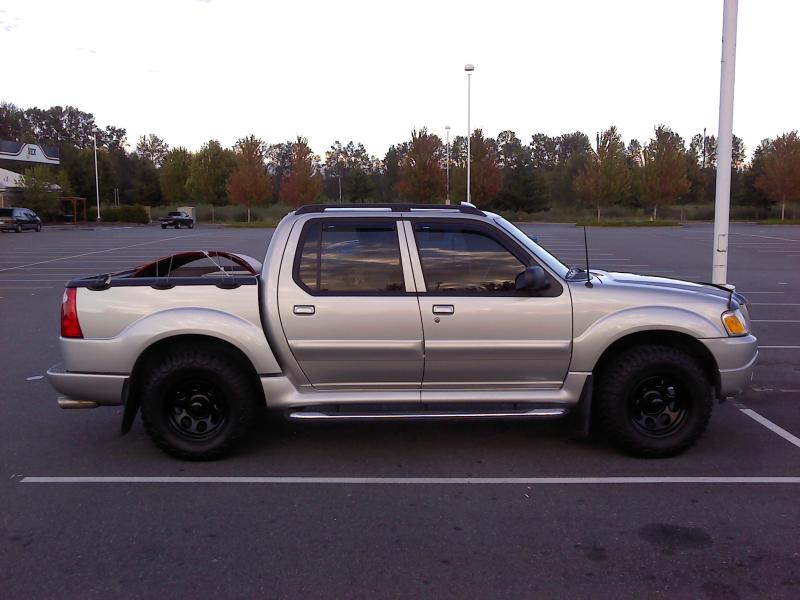 Dechromed
Debadged
Volant Intake (Transplant from previous "X")
SCT X3 Tune (Transplant from previous "X") - Upgraded to Livewire
5R55E VB
with full compliment of mods.
Amsoil ATF in Trans and Transfer Case
Replaced OTA cooler with
B&M 20,500 GVW SuperCooler
PML 5R55E Deep Sump Pan
with Magnetic Drain Plug
PermaCool
external trans filter mount w/ Bosch Filter
Derale -6AN In-Line Fan Thermostats (to turn on electric fan if output of transcooler is >180*f)
Derale Oil T-Stat to keep trans fluid at 180*
Russell ProClassic
-6 AN hose and fittings for transmission lines
HD Cooling upgrade
w/ Hoses and 195*F Fail-Safe TStat
Sears DieHard Platinum P-2 Group 65 Battery
Moog performance sway bar links (Front and Rear)
Moog performance sway bar bushings (Front)
Longer Torsion Bar bolts
Stainless roof rack and cargo tiedown hardware
Derale
Flex Fan with
Flex-a-lite
Adapter
Screamin' Demon Coil Pack and Blue "LiveWire" plug wire set (Autolite APP103's gapped to .060")
6/2016
PowerStop Ceramic Coated Calipers (x4)
Raybestos "Professional Grade" Brake Hoses (x4)
Raybestos "Professional Grade" E-brake cables (x4)
Raybestos "Professional Grade" E-brake hardware kit (x2)
Raybestos "Professional Grade" E-brake shoes
Motorcraft PCV valve
PCV Catch can
Motorcraft Vapor Purge Valve and hoses
New ported intake manifold
Ported and half-shaft throttlebody
"Ported" fuel rail (you'll understand when you get a peek at the factory parts)
2014 F150 FlexFuel Injectors (34.6# BR3Z-9F593-A) + Updated Tune
G10 Fuel Rail Spacers
Victor Fuel Injector O-rings (upgrade fuel rail seals for Ethanol)
JEGS Thermal Heat Sleeving on fuel line going to the fuel rail
Trick Flow GT-500 performance adjusters (lifters)
Ford GT Super Car followers
Simmons Auto Sports
Single Sensor
Thermostat Housing (one piece aluminum)
Bypass hose replaced
TechFlex Heavy Duty thermal wrap on EGR tubes
Motorcraft WPT-207 coil connector (broken tab)
Valvecover gaskets, bolt seals, sensor/connector seals
Used Sport Trac Bed Extender, Ford Swivel bolts and plastic hole plugs
8/2016:
ASP-526400
Crankshaft Pulley/Harmonic Balancer, 25 Percent Underdrive
[Good for HP, bad for Towing!]
12/2016:
Westin
One Piece Grille Guard 40-0805
2/2017:
Heater Core (Ugh!)
OBX Stainless "Shory" Headers coated with a polished aluminum ceramic coating.
Stage 8 locking hardware
Felpro gaskets
Motorcraft O2's (B1S1, B2S1 only)
Magnaflow pre-catted Y-pipe titanium ceramic coating
Magnaflow cats titanium ceramic coated
EGR tube covered in high temp braid
Trans fluid/filter change and valvebody retorque
5/2018:
BFG T/A KO2 255/75-16 Tires (5)
Crager Soft 8 Rims (5)
Ford Factory Lugs (20)
Ford Ranger hub caps (4)
Hub-centric rings (4)
Moog CK80068 Control Arm and Ball Joint Assembly
Moog CK8708T Control Arm and Ball Joint Assembly
Moog ES3667 Outer Tie Rod End (x2)
Moog EV81003 Inner Tie Rod End (x2)
Moog K8834 Rack & Pinion Bellows (x2)
Moog K80065 Camber Adjusting Kit (x2)
Bilstein 4600 Series
Gas Shocks

(5 Freakin' Stars!)
Front Hubs
6/2018:
NAPA 2559 (CU2174) 2 Row Radiator (Swapped roadside)
7/2019:
TAC Black Explorer Sport Trac Nerf Bars
Goals:
Increase MPG (19 best to date)
200+ RWHP
Better handling
Better braking
Tow without destroying the trans - again
Coming soon:
(i.e.: Have, need to install)
Some electrical mods and switches for lighting.
Magnaflow Catback 15696
Want:
Yakima
MegaWarrior Roof Rack
,
Railgrab
,
58" crossbar
,
Axe/Shovel bracket
,
Hi-Lift jack bracket
Some tasteful Herculiner "highlights"
AEM Trans Temp Gauge 100-300F w/White Analog Face 30-5136W (0-5v data logging output!) - to compare ECU reported pan temps to test port connection.
Detroit TrueTrac
4.56 Gears (x2)
Powermaster 57768 3G Style Ford Alternator (Black)