Rubicon Trip Report
2003 Serious Explorations
"Rubicon Stealth Run" Report
By Gerald Jarrett, with thanks to contributions by the other participants
(photos by Gerald Jarrett, Ashli Rutledge, Tom Rios, Brian Kennedy, and Rossana Kennedy)
Early in the summer of 2003 an idea began to form amongst a few people that had become close friends over the years on the explorer4x4.com forums: a 2003 Explorer run on the world-famous Rubicon Trail.
The potential participant list to contact was unfortunately small, but had to be kept that way in order to offer the group a decent chance to complete the trail in the allotted time (as it worked out, that consideration was more true than we could possibly have anticipated beforehand). Some rigs were currently undergoing major modifications and some were unavailable for other reasons, so it quickly became evident that this would be a small group who had wheeled together before and who completely trusted each other's spotting and driving skills when the chips were down.
As the time approached, scheduling conflicts removed a few others from consideration and the final list whittled down to just six vehicles: a perfect number to run this trail – less than that and available spare parts/tools may not be available, but much more than that number would exponentially raise the chances of major breakage and/or getting stuck and stopping the progress of the run.
The final list
-
Trailboss: tdavis (Tom Davis), with kiadog (Anthony Mondani) riding shotgun - Suzuki Samurai
FAKRWEE (Tom "Chief Lost and Found" Rios) - '92 Mazda Navajo
GJarrett (Gerald Jarrett), with copilot AshliX (Ashli Rutledge) - '99 Eddie Bauer Explorer
Ray Lobato - '97 Explorer XLT
BKennedy (Brian Kennedy), with wife and daughter Rossana and Sarah - '94 Explorer XLT
Tailgunner: RangerX (Bill Collins) - '93 Ranger
The decision was made to run the "real" Rubicon with all of the challenge it affords. As a result, the scheduling quickly became apparent: the run would be early in the summer while the springtime's snowmelt erosions had still left the trail untamed, and before the annual J**p Jamborees when hundreds of Jeepers stack rocks and pave it into a shadow of its true natural fourwheeling glory. The date: July 9th – 11th, 2003; right after the July 4th weekend mayhem and right before the first Jeeper's Jamboree.
It worked – as soon as we approached the Gatekeeper it quickly became apparent that the Rubicon wasn't going to back down one bit by offering our grocery-getters an easy pass. If we wanted in, it was going to be on the trail's terms and not ours. Stay tuned.
The Prelude: July 8-9, 2003
– GJarrett, FAKRWEE, RangerX, and BKennedy arrive in Placerville
Gerald (w/Ashli), Tom Rios, Bill, and Brian (w/Rossana and Sarah) arrived in Placerville and met for great BBQ food at a local hole-in-the-wall joint that Tom knew about from previous trips.
Poor Red's BBQ
The next morning we met Tom Davis (w/Anthony) and Ray for breakfast at the local Denny's and then set off for the legendary trail.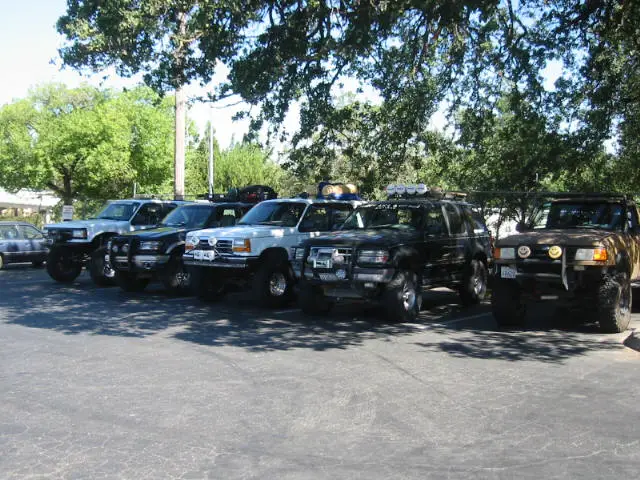 At Denny's and Ready to Run
Day One, July 9, 2003: The Rubicon Wastes No Time In Asserting Its Dominance

This was it.

The moment we had all waited for. Excitement permeated the scene as we aired down our tires at the Loon Lake Dam staging area and journeyed onto the beginning of the trail.
It didn't take ¼ mile before the obstreperous mistress known as the Rubicon made very sure that we knew who was boss before she was going to allow us on her back. At the Gatekeeper my Explorer "Herc" had a temporary problem engaging its new front locker and Tom Rios stepped out of his Navajo to check me out. Only minutes ago at the Loon Lake staging area he had just changed his ankle-high hiking boots for more comfortable shoes. Huge mistake. In the low-cut shoes he slipped on the dirt-dusted granite and wrenched his foot as he went down. A stereo double
!CRACK!
corresponded to the sight of his foot hanging loosely 90 degrees south of where his leg was pointing. This was no minor sprain. It was serious, and there was no mistaking that the only things still holding his dangling foot onto his leg were the skin and meat. I would never have held out like "Chief Lost and Found" of the FAKRWEE tribe did. Tom came very close to losing consciousness and succumbing to shock - but he didn't, and he gritted through the ordeal with more panache than John Wayne. I was faint just imagining the pain he must have been experiencing.
Chief Lost and Found may be smiling, but he's not on painkillers yet. You are looking at one helluva tough Injun.
Brian (a CHP) had full EMT gear and did an admirable job using it to splint the injury and keep it in place until help could arrive. But until then Tom couldn't even have a beer or aspirin, because if he did, the ER docs wouldn't give him anything for the pain once he got to the hospital. So he had to tough it out until then. It took a
long
while to get paramedics there to carry him off of the trail until he could get relief. Tom is one heckuva tough mother-wheeler and in my opinion the FAKRWEE tribe has the most honorable chief of all.
Herc salutes Tom on his way out
The Rubicon has broken Tom's vehicle everytime he has tried to tame it, so this time he came prepared with the most awesomely modified Navajo that I have ever seen. I guess it figured that it couldn't break his Navajo, so it broke him instead.
Tom and the FAKRWEE Navajo
For the FAKRWEE tribe, this is now very personal. Tom, I hope to join you again here, and that you finally break your curse on this trail.
*A side note concerning the value of friends made on this
www.explorer4x4.com
website: Paul Bredehoft (who originally couldn't make this run) dropped everything
immediately
and picked up the ball as soon as he learned what happened and coordinated the entire issue of getting Tom's vehicle back off of the trail and bringing his wife to him and etc. In addition, after the run was finished that Friday, Brian drove Tom's Navajo from Placerville to the hospital in Roseville (with his wife Rossanna at the wheel of his own Explorer), saving Paul and Tom's wife ReEtte about 5 additional hours of driving. Brian and his family finally left that evening following their hospital visit and did not get home until 4 AM the following day.
This site was originally built upon the kinship of 4wd enthusiasts in areas that demand close fellowship for survival. In times like this, you learn who your friends are.
Now back to the Gatekeeper and on to the trail….
By the time Tom had been safely carried away to receive medical attention and tdavis & Ray Lobato had driven his Navajo off the trail all the way back to Ice House Resort (Robb's Resort was closed at the time), it was the middle of the afternoon before we returned to tackle the Gatekeeper. This obstacle is perfect for the trail and any vehicle that wants to run the Rubicon from the Loon Lake entrance must conquer it before continuing onward. If your vehicle cannot get past the Gatekeeper, then that is your message to turn around and go home: you don't belong here.
Gerald spills his groceries at the Gatekeeper: pictures do no justice to the difficulty of the obstacle
As bad luck would have it, Ray severely shredded a sidewall while negotiating Gatekeeper.
Used BFG AT ko Tire - make offer
As more bad luck would have it, he was also the only one on the run without 35" tires, so if he got another flat he would not be able to use anyone else's spare. I don't know what was going through the other's minds, but all I could think of was that if Ray did get another flat then he would have to use two borrowed 35" spares on his rear wheels, trim his wheelwells to take them, use 2wd as much as possible, and let his 33" front tires grab overspeed through 4wd obstacles when needed for the rest of the run. The problem with that plan, of course, is that nearly all of the Rubicon is 4wd obstacles. I took extreme care while spotting him during the rest of the run in an effort to keep his sidewalls off of sharp rocks, sometimes sacrificing a better line and leading him on an alternate one in order to make sure he protected his tires (he did make the rest of the run without another flat incident, whew).
We had finally gotten through the Gatekeeper. But it was late: 4pm, Tom Rios was already eliminated via personal carnage to his own body, Ray's Explorer was facing the full Rubicon without a spare, and we had only gone ¼ mile past the Loon Lake Dam staging area. Welcome to the Rubicon. I had just driven over 2,600 miles from my current home in South Carolina to take on this 17 mile trail and already our whole plan was shot to hell with one of the primary leaders out of action in ER and another one was just one rock away from shredding his sidewall and blowing the whole trip.
For the most part, it is difficult to give a specifically descriptive trip report about the run as we continued onward - this trail is the most consistently challenging and awesome 4wd experience that I have ever experienced. The trail had way too many challenges to remember individual obstacles that clearly. The trail
was
the obstacle.
After a few miles of this:
Ray Lobato in some really big rocks
it all just sort of runs together in your memory.
*Note for comparison: in my '99 Explorer "Herc" I have run trails in 13 states (including two dozen trails in Moab and another dozen major Colorado trails) encompassing the best of Moab UT to Truckhaven CA to Clayton OK to the most scenic in the U.S. in the Ouray CO area to the Slabs in TX to Tellico in TN and NC to Paragon in PA and on and on etc. I can say without any doubt that the Rubicon is the best single trail that I have ever had the pleasure of fourwheeling on. The combination of the demanding technical 4wd workout against the background of some of the most beautiful scenery on the North American continent left me speechless. You have to be there to understand. I'm sitting in a cubicle now writing this in a boring accounting office in South Carolina after running the Rubicon only a couple of days ago. Arggh.
After the late start we began working our way through the trail. I've always wondered why I can find so much information on this trail but so few photos. Now I know. We were too d@m# busy wheeling to take photos. We've got some, but not nearly as much as one would expect after completing a major run like this. The few photos I do have are mostly courtesy of Ashli and not me - I was too busy fighting the Rubicon.
The loss of Tom Rios dictated that the order become Tom Davis in front in his highly modified Suzuki. He had the experience and he was the one left remaining who knew this trail the best. However, in a pinch he could not have strapped up a heavier Explorer, so the next in line was Brian with his newly-modified Explorer (well-lifted and locked front & rear on 35's). Next was me in Herc, then Ray behind me, followed by Bill in the RangerX in the back "tailgunner" position. This ended up being the survivors' march for the rest of the run.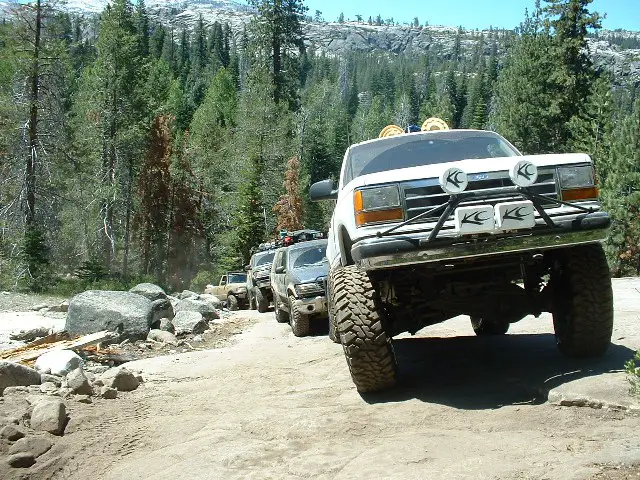 On the Rubicon Trail
As time wore on we fought our way through until we made it to Little Sluice just before nightfall. I've waited years to see it and it did not disappoint. I personally think I'd have no trouble running it (except for that one minor 20 yard section in the middle with the Volkswagon-sized rocks, LOL
). By the time we passed it the sun was gone and we took the tree squeeze bypass in the dark. Ray blew his CV joint right between the trees.
More Ray partrs: slightly used CV joint - make offer
We were way behind schedule but there was no going on. We camped right there, above Little Sluice, with Ray's Explorer wedged in the squeeze-trees bypass.
As it worked out that wasn't such a bad deal. We were on the top of the world above the Little Sluice and the sky was completely cloudless with a full moon that bounced its radiant beams across our camp. The blue moonbeams lit off of the granite so brightly that flashlights were not needed to witness the majesty we were in. Bill made a point to go around and suggest that we each get away from the camp to adjust our eyes for a minute in order to soak it in. You had to be there to understand. It was awesome.
There is no photo I can post that can hope to begin to match the wonder displayed by the sky at camp that night when God decided to show off for us and let us see a little bit of what He could do.
Day Two, July 10, 2003: Beyond Little Sluice and On to Rubicon Springs
The next morning Ray replaced his left frontaxle with my spare and we continued on.
Ray gets greasy while the rest of us supervise
A hundred separate memories that day blur the specific parts of the trail as I struggle to recall singular moments, when it finally hits me - I cannot do that, and that is okay. This trail is not for producing a photo to post and explain the event. It is for the memory. As Peter Weber would say, some scenes in the snapshots of our life cannot be captured on film, but can only be captured in our memories. This trail is one of those scenes. The scene embedded in my memory is one of the whole experience and not always the singular moments.
For example, Ashli took several photos of our group going down what Tom later identified as Million Dollar Hill and for the life of me I don't have a single braincell memory of being there. However, when looking at the photos I have to admit that I should have remembered dropping off of that scary mother after finishing any other trail. Here, it was just another section of trail: no big deal, and no memory at all. I went to the Rubicon, I ran a named obstacle, and I don't have a clue what I did. In memory, the whole trail was a blur.
The good kind of blur.
Million Dollar Hill
BKennedy begins the descent
We worked our way further through the trail that day, taking time for a quick lunch at Buck Island Lake (and a
Cold!
dip in the water for those of us who decided to take a natural bath).
Lunchtime at Buck Island Lake
That afternoon we arrived at our second campsite at Rubicon Springs - eight miles from the Loon Lake staging area where we started.
It had taken us two days to go eight miles.
We were offered sites in the forest but Bill wisely remembered that there were better ones right at the springs. Thank goodness because the 'skeeters were as carnivorous as lions there in the forest next to all of the standing water. We camped the second day at Rubicon Springs under yet another cloudless night while aside the soothing waterfall.
Rubicon Springs Campsite
Retreating behind a moonlit cloudless veil, the waning sunset sky bled crimson red across a landscape of glacier-scarred granite and Ponderosa Pines while the waterfall sang its relaxing song. At that moment I knew that this was no ordinary place. This was the mistress: the trail that I had always instinctively known that I must find, that time long ago when I first shifted my 4wd transfer case into lowrange on a trail much less worthy than this. After so many trails and so many states, I had finally arrived Home on this trip.
If you 4wd,
the Rubicon is Home.
Day Three, July 11, 2003: Onward to Lake Tahoe
We broke camp the next morning and bid farewell to Rubicon Springs, but only after Brian's daughter Sarah finally got a chance to play with other kids her age in the springs and wrestle with wet dogs in the frigid water
. It being Friday, we finally hit weekend traffic as other wheelers met us head-on coming into the trail from the Lake Tahoe side.
RangerX at work
On Cadillac Hill we had a couple of pucker situations that added to the mystique of running the Rubicon. At one point I pulled another one of my three-wheeling stunts by taking a wrong line. I promptly lifted my left front tire several feet in the air, precariously balancing on the edge of a rollover off of the side of Cadillac Hill. I asked for help and had to repeat the request a little louder to get Brian's off-duty butt back to me more quickly (just like calling 911 – they always get there just a little slower than you want
). Just kidding; he and others came as soon as they realized what was going on. With three big guys on my left front, they weighed it down and put Herc back on terra firma.
*I have to mention here that Ashli - being in Herc's shotgun seat and in no control of anything except to pray and hold on to the oh$h!t handle - did absolutely nothing and peeped not a sound. She later told me that she knew that nothing constructive would come from her freaking out, so she quietly stood down. Being on the passenger side, she would have been the first to feel the effect of the rollover. Earlier on the trail I had asked her several times if she noticed that we had gotten air while going through obstacles and she had laughed it off and said she didn't notice. She noticed this one
No, she doesn't have any sisters
: Go find your own wheelin' woman
Interlude: while we are on the subject of women. Brian's wife spent her birthday on this run this day. I assume he paid her back with a great time in Tahoe once we finished the trail, but I know that being with us is quite a lot to ask on the real day
. Rossana, I hope you enjoyed this trip and was able to embrace the awesome scenery of the trail and enjoy the experience. We all appreciate your participation and I am honored to have met you.
At the base of Cadillac Hill, Tom nearly reaped the most dangerous penalty of the trip for his short wheelbase. He has built his 'Zuki into a very capable rig and he easily outperformed us on most of the trail. LWB (long wheelbase) vehicles like Explorers are a very tight fit on many turns and in many areas of the Rubicon. I cannot count the number of times I had to pin my rockslider against the side of a rock to pivot around it but Tom just casually motored carefree through the trail's tight turns the whole trip. However, some of the steep obstacles favored LWB and at a particularly hairy one at the base of Cadillac Hill he nearly lost it. Anthony had stepped out of the 'Zuki and Brian got in the shotgun seat in his place. At a split second in time, as an impending rollover to the right was about to occur, Brian's instincts wrongly took over and he stuck his right leg out to hold the 'Zuki up (as if he could leg press a ton or two with his right leg
). If the "Zuki had completed the roll Brian's leg would have been snapped in half. Luckily his brain took over; as I was yelling "LEG!", he was already taking it right back in, and the 'Zuki didn't roll, so all was well. Whew.
At camp the night before I had jokingly offered Anthony a "Rubicon Hikers Patch" because I had noticed that he got out of Tom's Samurai often and walked a lot of the trail at times – but until then I didn't question or notice why.
I think Brian figured out why Anthony had been walking so much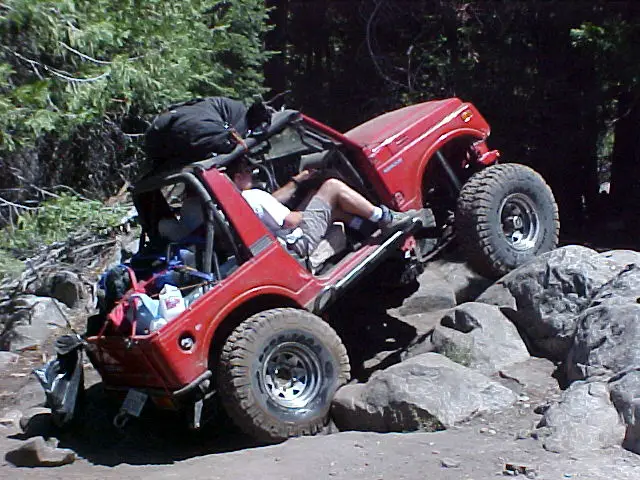 'Zuki Aerobatics on Cadillac Hill
Afterwards we made it to Observation Point and on to the end of the trail.
Observation Point
We initially said our goodbyes and broke up, but upon cruising toward South Lake Tahoe we all met up again at scenery overlooks over Lake Tahoe. The scenery at the end of the run was every bit as incredible as the scenery during the run.
Lake Tahoe
Will I do this trail again, given the distance I'd have to travel to do it all over?
What do you think? :smoke:
C'ya there!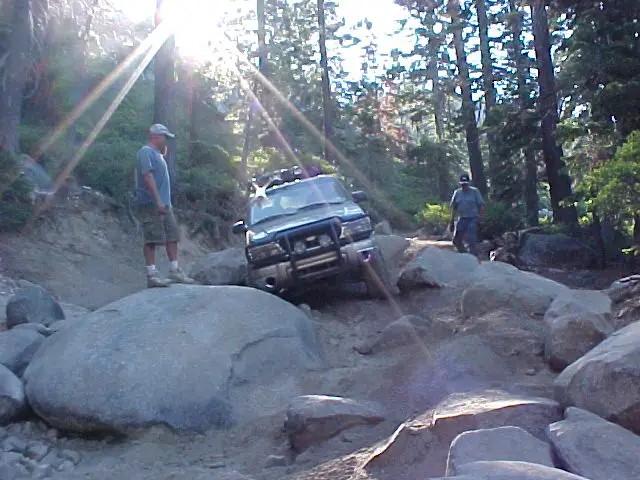 (These photos and more are hosted at GJarrett's
Elite Explorer Photo Gallery
)