This is becoming a pretty popular topic. I thought it would be time to make some resources available to those who really need to see what it takes.
I'm not going to get into why you should go solid axle vs. the TTB nor will I get into the debate of leaf springs vs. coils. Also I will not tell you that this is the absolutely best solution to a solid axle swap but to the likes of myself, Froader, Stic-o, KirbyN, JTX, Diff Whack Daddy, Muddwhore, and others there is proof out there this is a good solution that will put your Explorer or Ranger in Big Dog category and I believe I will be able to show you every part you need to get there in a
bolt-on application
.
What this topic will discuss is essentially a "Bolt On Solid Axle Swap"
Parts list
(if you find a donor axle still on the vehicle at the junk yard you can get most of the parts or search the early bronco sites)
1)
axle
$50-500
Early Bronco Dana 44 or 70's style F150 Dana 44 without cast wedges cut down 6" (for info on cutting down look here
http://www.4wheeler.ca/index.php?showtopic=391
) If you get this at a junk yard take as much of it as you can get.
1)
set of early bronco or F150 Radius arms
(included in axle - $500
aftermarket arms like CAGE may also work at the same location. Get the retaining rings for your coil springs at the bottom as well. These are different from year to year and can be hard to match up.
This is a wristed arm, not hard to do and will gain flex, but not absolutely necessary.
1) set of 7 degree c-wedge bushings $55
http://www.wildhorses4x4.com/category/front_end
1)
Crossmember
$100-200
for radius arms to bolt up, Ford Explorer/Ranger skyjacker extended radius arm cross member is a bolt on application. Also radius arm mounts for a 78-79 F150 will bolt up as well.
(this photo is on a TTB truck, but thanks to DeRocha it shows how a nice clean extended radius arm setup is mounted)
2)
Early Bronco/F150 Coil Spring Buckets
$129
these will take some cutting out with a grinder to clear the bulge of the frame on the drivers side (you will see if you look at a bare frame after you cut off the stock coil buckets.
http://broncograveyard.com/bronco/i-13211_new_coil_spring_towers_1966_-_77_pair.htm
2)
Late 70's style F250 Shock Towers
$39.99
http://www.wildhorses4x4.com/product/Long_travel_shock_towers/Front_Shock_Mounts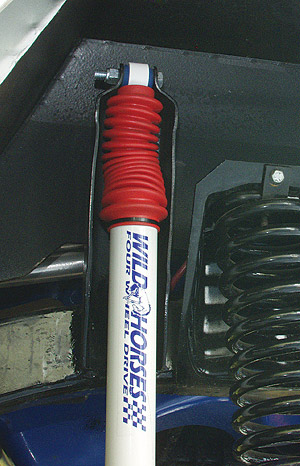 1)
Ford Explorer drop pitman arm
for 6" lift $65
http://www.jamesduff.com/broncoII/radiusarms.html
2) extended brake lines with fittings for the Dana 44 calipers $100
2)
12" travel shocks
any brand
2)
Coil springs
for Early Bronco 5.5" lift $159
http://www.wildhorses4x4.com/product/Rock_Crawler_5in_pr/coils
1) 70's style Bronco or F150
track bar with frame mount
$129 + $ 35
here are a couple options from Wild Horses for not a bad price
track bar-
http://www.wildhorses4x4.com/product/Adjustable_Trac_Bar/Trac_Bars
frame mounting bracket-
http://www.wildhorses4x4.com/product/Trac_Bar_Drop_Bracket_7677yr/Trac_Bars
(note I braced my track bar to the engine crossmember, this elimited a major amount of stress that a track bar mount has to handle)
Steering
$150
Some may not like my ideas on steering but I will share what I did.
1) 12' section of DOM tubing 1 1/4" diameter with 1/4" wall thickness for steering
4) 3/4" heim joints
I used castle nuts with a cotter pin and drilled out my knuckles and never had a problem. I have seen heim joints fail so I tried to use a large washer to retain the steering in the event of a heim failure. I've heard Chevy 1 ton is pretty good steering and the above mentioned early bronco websites will make custom steering.
refer back to the photo above of my steering to see it as well, my truck is winched down in this photo to a trailer so angles and coils look a little off
Tools & Misc parts
$150
I purchased a box of grade 8 bolts, washers, lockwashers and I suggest nylock nuts plus I used locktite.
1/2" drill bit and a good drill because you will drill 4 holes in the frame per coil bucket, 2 for each shock tower, 1 in the engine crossmember for the track bar mount, 3-4 for the radius arm cross member. I attempted to use the same size bolt in each hole if possible, makes it easy to prep the truck if everything is a 3/4" nut.
******************************************************
My setup used a little different approach, I extended the radius arms long enough to replace the transfer case skid plate with a crossmember and used heim joints. I paid a fab shop about $150 to weld up that crossmember after I had it completely designed to bolt up in my existing transfer case skid plate mounting points.
This shows my equipmet which will someday hopefully be seen under RangerX's Ranger. I enjoyed it and it worked quite well.
What you see in this photo
custom crossmember that bolts to t-case skid plate mounting locations
track bar (I chopped the F150 one that came with my 44, drilled it out and tapped it to make it adjustable with heavy duty threaded rod. If I were to do it again I would have chopped it in half and had that threaded with a long hex nut (don't know what the real name is but it would look like this)
steering with spacer between tie rod and drag link to reduce binding
radius arms extended by welding a solid piece of stock to the radius arms and tapping for heim joints.
You should use jam nuts with heims to keep them tight and avoid damaging threads from vibrations.
I will try to add up the price of all this stuff to help those guys out that are trying to pull this off. For the rear I used my same spring over axle you see in the $32 thread, I purchased 1.5" wheel spacer adapters for about $100 to make all of my wheels 5x5.5 that the disc brake front axle came with.
Once you get to this point you will need to get gears and probably a locker, you should really go through that old axled with a full rebuild if you plan to go out in the middle of nowhere and go wheeling.
My front drive shaft bolted right up to the Dana 44 and cleared, it came close to the engine crossmember.
also here is a comparison of a full width with 15x10s on 36s vs. stock width 15x8 on 37s.