Joined

February 4, 2011
Messages

505
Reaction score

15
City, State

Makkah
Year, Model & Trim Level

2008 XLT 4WD V6
Introduction:
for me I never liked the spongy feeling of the brakes in the Explorer. Also, on off-road I really did not like the sound caused by the sand and dirt entering between brake pads and rotor. In addition, I wanted a cooler brake system, in order to improve the Brake Traction Control System (it stops working when brake pads become hot)
I wanted to install cross drilled and slotted rotors, but reputed brake brands are expensive, and I do not trust cheep brake pads for the following reasons:
First:
of all you can see that striped or banding is already appearing after this short driving period which is typical of a brake rotor where the drill holes do not "Overlap" leaving uneven areas of the brake rotor surface contacted by the brake pads. This eventually would lead to "Ribbing" or ridges developing on the rotor which causes poor brake contact and further down the road, when new pads are again fitted they will take an age to bed in UNLESS you turn the rotors back to a flat surface condition.
Second:
amateur rotor drilling companies may not take the time to ensure that their drill holes fall into the vent pockets in the rotor which are between the two faces of the brake rotor. If these THROUGH DRILLED HOLES are drilled right through into the support vanes in the rotor core this will GREATLY weaken the structural strength of the rotor. Even IF the supplier does manage to take the time to locate the through drilled holes to fall into the vent pockets between the vane supports it has been seen on many occasions that cracks develop around the through drilled holes as shown here. Eventually the rotor cracks and will very likely suffer a catastrophic failure.
Parts:
EBC 3GD Series Sport Front Rotors #GD7382
EBC 3GD Series Sport Rear Rotors #GD7151
New OEM brake pads (ceramic pads made by ROUSH)
Front pads: Ford 6L2Z-2001-A
Rear Pads: Ford 8L2Z-2200-AB
Loctite Disc Brake Quiet #40300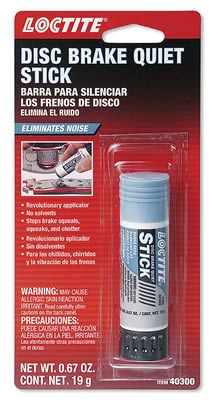 Installation:
I found these useful video clips
Front rotor
Rear rotor part 1
Rear rotor part 2
Compared to Stock rotor
installed with Eibach Pro 25mm wheel spacer
Before installing brake pads, don't forget to apply Loctite Disc Brake Quiet on the area, were brake-pads contact brake-Caliper and brake-piston

Bedding Your Pads:
To ensure your new pads will work as advertised, they must be broken in, or bedded. Subjecting new pads to hard service right out of the box will result in poor performance or even damage to the pads and the rotors due to extreme temperature variations between the rotor surface and the body of the pad. Think of the bedding process are a "heat cure"; the new pads are gradually brought up to temperature and then slowly cooled over a period of time.
Here is a widely-accepted procedure for bedding brake pads for your street vehicle. It can be used with any pad type.
Step 1:
Make 8 to 10 gentle stops from 30 miles per hour to 15 miles per hour. Allow 20 to 30 seconds between each stop so the brakes can cool down.
Step 2:
Make 8 to 10 moderate stops from 45 miles per hour to 30 miles per hour. Again, allow a 20 to 30 second cooldown period between each stop.
Step 3:
Make 8 to 10 hard stops from 55-65 miles per hour to 25 miles per hour, allowing 20 to 30 seconds of cooldown time between each stop.
Step 4:
You should notice a more positive brake feel during the bedding process. If you notice any significant brake fade during the hard stop phase (Step 3), it may be an indication that the brakes are overheating. Immediately do some light driving without using the brakes to allow the brakes to cool down, then repeat Step 3.
Step 5:
Drive at a moderate cruising speed, using the brakes as little as possible, until most of the heat has dissipated from the brakes. Avoid using the brake pedal to hold the car at any stops you make. Park the vehicle and allow the brakes to cool to ambient air temperature.
Observations:
There is a day, night difference.
After bedding brake pads, I noticed that all spongy brake feeling was gone. The brakes faster respond much much better and firmer
Note: There is a wooshing sound (sound of air between pads and wide-aperture scraper slots and blind-drilled holes), that EBC warned about. For me, the wooshing sound does not bother me at all
if you do not want the wooshing sound or do not like it, then it is better to use:
EBC USR Series Sport Rotors
(Slotted only).
Front #
USR7382
Rear #
USR7151
Power Slot Cryo rotors
Slotted rotors with the state of art technology
Cryogenic Treatments
Front Right #
126.65118CSR
, Front Left #
126.65118CSL
Rear Right #
126.65090CSR
, Rear Left #
126.65090CSL
That's all guys, thanks for passing by