Pumpkin Pilot
Staff member
Admin
Elite Explorer
Joined

February 8, 1999
Messages

34,637
Reaction score

2,887
City, State

Wayoutin, Aridzona
Year, Model & Trim Level

'93 XL Pumpkin Edition
Callsign

AB7FH
Air Conditioning
How to:
Converting R-12 to R-134a
How to:
R&R A/C Compressor 4.0 SOHC
How to:
Replace A/C Receiver/Drier 4/0 SOHC
How to:
2nd gen Blend Door Quick Fix
How to:
3rd Gen V8 - A/C bypass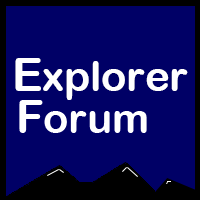 Picked up a 2007 v8 with 117k miles on it the other day. While negotiating, notice it had some dye around low side port, so thought AC issues. Got it home, put uv light on it, no sign of leaks. Noticed AD does blow cold BUT the air is kinda humid, so that usually means crap all over evaporator...

www.explorerforum.com
Blower Motor
How to:
Replace Ford Explorer Blower Motor Control Module
2nd gen
Info:
1st Gen Fire Hazard - leaves near blower motor resistor cause smoke from vents
Cooling System
How to:
V8 Under Drive Pulley and Electric Fan Installation
How to:
Replace Thermostat 2000 4.0 OHV
How to:
Change thermostat 1991 - 1994 Ford Explorer with pictures
How to:
Install Heater Bypass Valve 1991 Ford Explorer
How to:
Flush cooling system
Info:
Antifreeze - Useful Information
Info:
How To Replace V8 Radiator
Diagnostics
2nd Gen No A/C or Heat from Vents
Gauges
How to:
Install Aftermarket Water Temperature Gauge
-1st gen
Heater Core
How to:
1st Gen Explorer Heater Replacement Diary
How to:
1st Gen Sport Trac Heater Core Replacement
Radiator
How to:
Remove and Replace your 2nd gen 1996 - 2001 Explorer V8 Radiator (with pics)
How to:
Replace the Radiator in a 5.0L Explorer
Water Pump
How to:
Remove Water Pump
- 1st gen