Moderator Emeritus
Elite In Memoriam
Joined

March 4, 2007
Messages

26,352
Reaction score

99
City, State

anaheim hills,california
Year, Model & Trim Level

95 ranger 4x4/ 91 X 4x4
...How I wound up with an Optima battery and the search for a Hold down for it...
...Thanks to 90Ranajo and ScottB for helping me with finding some solutions...

____________________________________________________________________________________
...Here is a link for
The Ultimate Optima Battery Information Page
..The Problem..
...My battery in my 95 Ranger was charging and holding a charge but would reset the radio in the truck every morning when I would first start it...After checking the connections and my voltage testing it still was a good battery...
...I had a buddy of mine watch the voltage at the battery as I started the truck up...The voltage dropped to 6 when it should not go below 10 for this test...It was time for a new battery as it was apparent that the battery had taken some abuse over the last 2 years...
...I had been buying batteries for years and doing proper maintenance on them...The failures on my batteries were always due to heat or internal damage...Everyone kept saying buy an Optima you won't be sorry...Here is a discussion we had in the past on Optima's and Batteries...
http://www.explorerforum.com/forums/showthread.php?t=235601&highlight=optima
...The Solution: Optima...
...Optima's had always been to pricey for me as they are hitting about the $200 price range now....A well known and proven battery for "Rock Crawling" and "Desert Racing" is the 34/78 model......I found a deal on a Optima 34/78 battery which is the model that has the Ford post on top and the GM terminals on the front...
...Specs...
...Optima Home Page...
This is perfect as I want to add accessories such as "on board air" for the ARB and tires, lights, switches, and a bunch of other little goodies and this will give me a good separate connection to "add a secondary fuse panel" as found here...
http://www.explorerforum.com/forums/showthread.php?t=202857
...Safety...
...Besides the above mentioned reasons, I also did this for safety and will do this eventually in all my vehicles in the future...This battery can be mounted almost in any position, is heat tolerant, and 15 times more vibration-resistant than standard packs. This battery is designed with a "spill proof casing" which comes in handy in case you flip your vehicle or get in an accident...
...Info from 4wheelparts...
...Another safety reason is one I had to learn the hard way...I was rear ended in my Explorer by a Hummer while stopped in traffic...I had a proper sized battery and the stock factory hold down...
...The impact was so hard it let the battery easily come out of it's position and battery post was fractions away from meeting the starter relay...This could have resulted in a fire, loss of vehicle, or loss of life...
...With safety in mind, that is what lead me to seek out a battery hold down for the Optima as I was not going to rely on bottom retainers again...
...The Battery Hold Down Search...
...I searched every auto parts store I know of in my area and they all had the same "over the top" plastic hold downs which were secured by "J" bolts after drilling holes in the existing battery tray outer edges...I did find one with a metal 1-1/2" wide piece of metal but it too was held by "J" bolts...
...I thought back to my accident and figured there was a possibility of either the "J" bolts pulling thru or more likely, the failure due to heat and shock movement of the plastic part due to the battery still being able to shift as it was held by 2 points...
...This lead me to thinking I would have more luck by contacting all the performance and race stores that Sold Optima's...The results there were leaning towards having something fabricated and I figured I was just as likely a candidate to fabricate something for my truck...
...Optima Battery Box Option's...
...After discussing this with 90Ranajo and ScottB, the 3 of us came up with these options....
...In Arizona on Ebay...$55
http://cgi.ebay.com/ebaymotors/34-S...ptZMotorsQ5fCarQ5fTruckQ5fPartsQ5fAccessories
...at Polyperformance...$95
http://www.polyperformance.com/shop/Optima-Battery-Box-Stainless-Steel-Hold-Down-p-16399.html
...From SummitRacing and several other online stores...around $100 but seen cheaper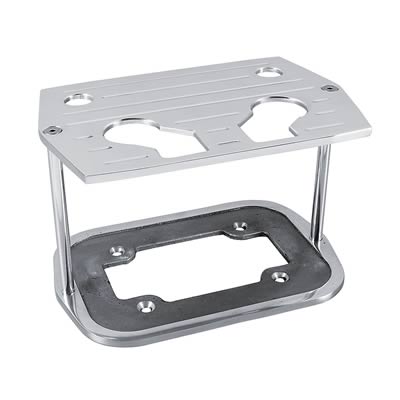 ...in Ohio on Ebay...$43
http://cgi.ebay.com/ebaymotors/OPTI...ptZMotorsQ5fCarQ5fTruckQ5fPartsQ5fAccessories
...from ruffstuffspecialties $39
http://www.explorerforum.com/forums/showthread.php?t=181043&page=10
...In Canada, a company makes a version near Toronto too...$46.95
http://www.tmrcustoms.com/store/index.php?main_page=product_info&cPath=12&products_id=448
...And the one I chose from Ballistic...$39
http://www.ballisticfabrication.com/Ballistic-3478-Optima-Battery-Box_p_1624.html
...and for those looking to run dual 34/78 Optima's, Ballistic has those too...They are working on supplying three different dual boxes for different battery orientation...
...Both are $69.99 @