Took the Plunge! Now enhanced with pictures!!!
Hey guys, my name is Chris, ive been on this forum for a few months and now i am elite.
About Me:
Name: Chris Downey
Location: Lynnwood, Wa
Occupation: United States Navy
Age: 20
i am married to my wife Rachel, and have two pitbulls (diesel and bella) and two cats (sadie and calvin).
My Ride:
stock
1998 Ford Explorer 5.0 AWD XLT
33x13.5x15 Super Swamper LTB's
15x10 Pro Comp Extreme Alloys 1069
Custom Intake
Trail Bent Running Boards
True dual 40 series flowmaster mufflers
Custom "H" pipe
3" BL 1" TT 1" AAL
Custom strobes
Kicker CVR 12" woofer, or solobaric depends
(4) kicker 5x8s w/ bass filter
Alpine Digital Amp
Panasonic deck
clear bulbed turn signals
fog light mod
More will come soon, i am goin muddin on sunday so i will have some of that too.
And above all, thanks guys for your excellent knowledge and awesome advice. I go on this website daily, and have used many how-tos and gotten many suggestions numerous times. Happy to be elite! later guys
Chris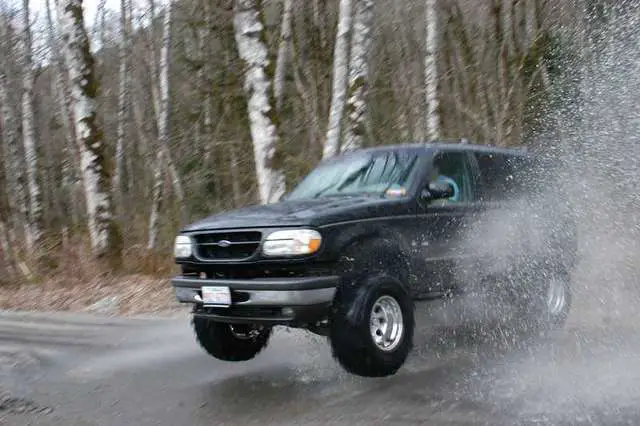 my snorkel build
i will get some more pics when i get the arb tip, im ordering it on monday.
Here are some pics of my intake adapter:
The adapter gasket:
i had to dremel out the inner part because it fit wierd and blocked airflow.
This is in the import section of kragen, look around the intake stuff, i went to a few places before i actually got it.
Spray-on bedliner interior:
1. Strip interior
2. Clean very well
3. Sand down
4. Tape off
5. Follow directions on can
heres some pics:
pre touch up:
all spaces were filled in, as well as the console: