Joined

November 16, 2006
Messages

2,310
Reaction score

221
City, State

La Habra Hts, CA
Year, Model & Trim Level

90 Bronco II
$3500
Located in southern California
1990 Bronco II, Auto, 4x4
172k miles.
About 115k on used transmission
Runs good. No problems. Cold A/C (r134 converted) cruise control, power windows. Top end was redone at about 140k miles.
Just passed smog two months ago
Dana 35 front axle. 8.8 rear axle
4.88 gears.
Detroit locker in the rear
33" Mickey Thompson tires.
Turn key ready to go. Daily drive it for several years. Good little car, can make it through some pretty tough trails with ease. I got myself something a little bigger so I'm letting this one go.
More info in the build thread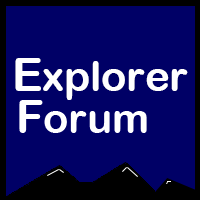 I started building my second RBV, a Bronco ii. This thread is to post about and document the work done to the car, so it can help others that are building a b2 or ranger based vehicle. This is actually my second build thread about this rig, the first one was accidentally deleted. I picked up...

www.explorerforum.com