Smokey the Clutch is, Missed Shift You Did
Elite Explorer
Moderator Emeritus
Joined

October 5, 2008
Messages

2,886
Reaction score

266
Location
City, State

Houston, TX
Year, Model & Trim Level

'98 EB, '93 Limited
A friend of mine gave me this 1998 Dodge Ram 1500. The transmission wouldn't get out of 2nd and it needed some basic maintenance. He wanted to give it to a junkyard,
but he called me up at work and asked if I wanted it. I said "Hell, yeah!" and brought it home a week later.

Specs:
5.2L V8 (230HP @ 4400RPM / 300 ft.lb. torque @ 3200RPM)
46RE 4-speed Auto
2WD
Single Cab Long Bed
3.55 Gear Ratio
9.25 Chrysler Rear Axle
ST w/ Cruise, A/C, and fogs
126K miles
Towing Capacity of 8000 lbs
Exhaust cut off after Cats
Class IV Hitch 10,000lb GTW
When I brought it home: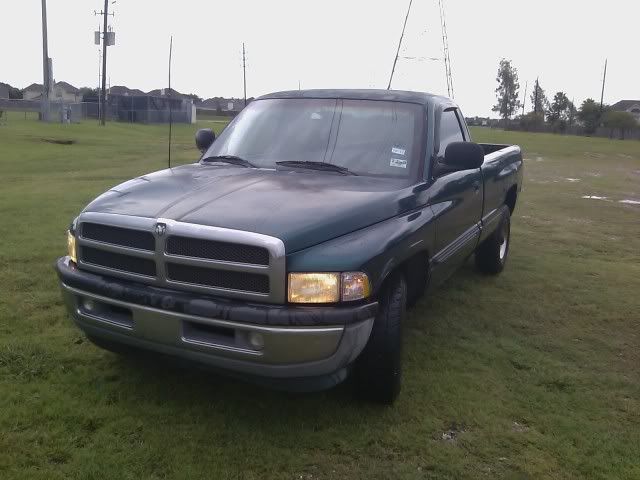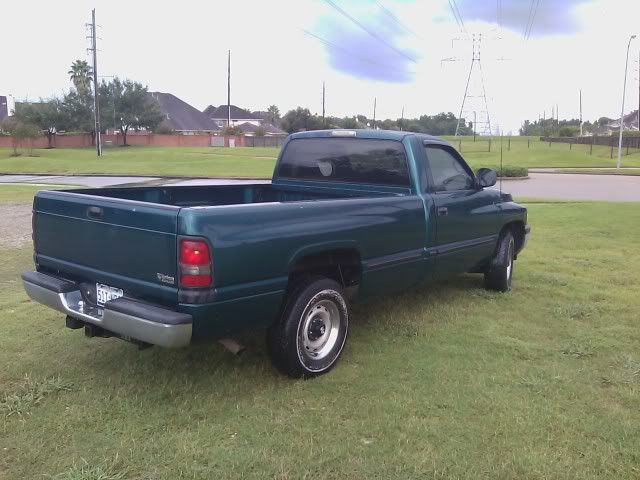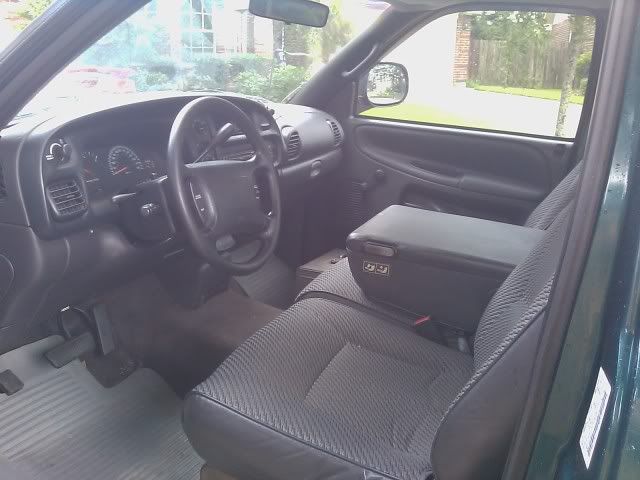 Now: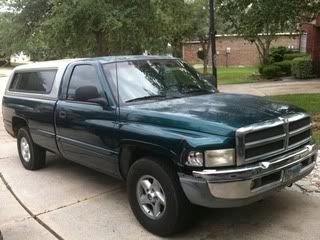 Flexing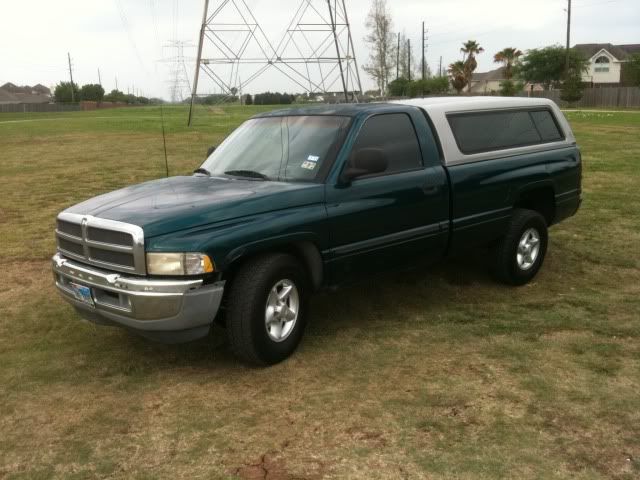 Future Mods
Powertrax Lock Right Locker
Dual Battery setup
Better seats
That's pretty much it. I want more MPGs out of it than the measly 10-12 it has around town. The Scan Gauge will help with logging MPG gains and RPMs, and the filter will allow the engine to breath a little better.
Why is the truck jinxed, you say?
The answer is simple. I cannot go 2 weeks in a row without something going wrong, be it my fault, general maintenance that's been ignored, or paperwork that's not been done right.
1. Title and Registration issues kept me from driving the truck for 6 months.
2. In trying to get the truck running, the battery craps out
3. When I finally get the truck legal, the radiator blows out on the highway.
4. That same week, I hit a guy who didn't pay attention to traffic, crunching in the fender and destroying the signal lens.
5. While that is being hashed out with the insurance company, the ball joints decide to do the rumba with my steering.
6. Took a while but got the joints done and then did a slide into "home" at 45, because the wheel fell off due to my negligence in checking the lugnuts.
7. With a destroyed knuckle and lower balljoint, I get the pleasure of fixing it in one of Houston's coldest winters.
8. Engine overheated. Nearly zero coolant in reservoir.
9. Transmission slipping out of gear randomly due to Powertrain module
10. While pushing the Explorer up on a trailer, the Ram gets a nose job from the trailer hitch when it kicks off the front rail.
11. Took the Ram on an unscheduled detour and while hopping a curb, I got stuck on the tranny cross member. Getting off required turning the the cross member into a pretzel.
12. Water pump blew out right before I left for Austin to get the part to fix the Explorer.
I know I should be getting the hint now, but I can't get over my attachment to this truck.
Maintenance 'n Mods
Interior
Replacement cup holders
Dash cover

Sound
Two 6x9 Kenwoods
Sony CD/USB/Radio head unit
Suspension/Steering
New Ball Joints
Refurbished driver's side steering knuckle
New inner and outer tie rods
New Gabriel Ultra shocks
New Pitman arm
Brakes
New Rotors and Pads
Drivetrain
New Governor and Governor Sensor for transmission
4 qts Valvoline Synth ATF w/ 1 qt of Lucas Tranny Fix
New Filter and Pan gasket for the Transmission
Engine
New Spark Plugs
New Filter
Oil Change every 4k
New Belt tensioner
New Belt
Exhaust
Cut off after Cats
Body
Fixed floppy antenna
New Wipers
Cooling/Heating
New Radiator
New Water Pump
Drier replaced
Liquid Line replaced
Wheels
265/70/16 Michelin LTX's
Chrome Stars
Lighting
Sylvania Silverstars Headlights
Fog Lights
Accessories/Mods
A.R.E "V" Model Bed Cap
Two 10k lb. Reese Tow Hooks
12v Power Socket in Truck Bed
CB Radio
Scan Gauge II
AEM Brute Force Cold Air Intake
Last edited: