Joined

February 6, 2001
Messages

2,250
Reaction score

70
City, State

Colorado Springs, CO
Year, Model & Trim Level

1991 Ranger
I found some press in studs that will work (made by moser), but I am considering sending these shafts back to be redone with a smaller hole so that there is more material on the outside of the holes in the flange. Perhaps even having them threaded for 1/2x20 screw in studs which I understand are stronger??? I wanted to try to get a hold of Moser today, but I had a lot going and I missed their window. I am going to call back monday. Then it will depend on shipping cost and their charge to fix them. One guy on the phone the other day said it would be $50 charge to do another bolt pattern but he wasn't very helpful. I don't know what shipping will be. Shipped to me was like $50. $150 mistake is really hard to swallow. I talked to a local machinist and he doesn't want to mess with them because they are hardened chromoly shafts. The 1/2"x20 threaded studs will be around .18 smaller holes I think. This translates into about 3/32" more material on the outside of the flange. In my mind, it is worth that. Grr. I hope I am saving someone some time.
Also, I ran across another interesting fact. 83-86 bronco shafts have a smaller button/ brake pilot deal on them that will fit the explorer rotors. You still have to deal with the too large flange for the rotors and the shorter shafts that interfere with the brakes, but this would be easier than a stock shaft in the 90s broncos/ f150s.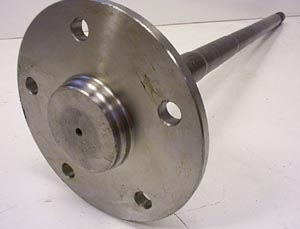 1983-86 8.8 Passenger Axlebr We have searched the US to bring you the best axle shafts for heavy-duty and off-road use applications.br These axles are produced using state of the art computer controlled equipment and manufacturing processes.br The first factor to consider is axle shaft steel.br...