It's Always Something!
Staff member
Moderator
Elite Explorer
Joined

August 1, 2008
Messages

11,747
Reaction score

2,108
City, State

MO MO
Year, Model & Trim Level

94 & 95 XLT's
After going through new upper ball joints in 2 months, and having the inner tie rods blown apart, I did some searching for something stronger.
If you have anything to contribute, please do!

What I found:
Dixon Bros has a super HD set up for big bucks. Out of my price range. Outers & inners for $395+shipping.
http://www.dixonbrosracing.com/content/view/5/2/
Since DB was too rich for me, and I needed upper BJ's, I kept on searching. Found a brand named Mcquay Norris. They have normal stock replacements (service grade) and Heavy duty parts (Pro Grade).
I also found that NAPA has there own version of HD parts. That line is under the label..NCP for napa chasis parts.
These looked almost identical to the M-N parts. I did some researching and it looks as if M-N was bought and sold once again and they are either "Raybesto" or "Napa" now.
http://www.napaonline.com/Search/Detail.aspx?A=NCP2605122_0161939738&An=599001+101995+50028+2028014
I ordered the pass side UCA/BJ, and the inner tierod ends. The HD line is called the "Extreme".
McQuay-Norris Extreme ES3424E Inner Tie Rod End
McQuay-Norris Extreme FA2102E Upper Ball Joint (pass side)
I couldn't find the Dr side from M-N available anywhere, so I called on the Napa NCP HD Drivers UCA.
I talked to the store owner, he informed me about a product he sells. He has 3 independent stores, and the corporate stores do not sell these.
I picked it up and was pretty happy with it. It was $50 less than the NCP part and just as beefy. The "XRF" brand has a 1 million mile warranty on all their parts. These UCA have a replaceable Ball Joint. They sell every part for our trucks with the same warranty. The downside (to me) is they are imported, as NCP, Raybestos, M-N are not.
Here is their website.
http://www.xrfchassis.com/
XRF Uses Moog, M-N, Spicer, & TRW part #'s
Lower Ball Joint Part #'s by Brand
Moog.........M-N ..........Spicer........TRW
K8695T......FA2100.......505-1221....104222
XRF Ball joint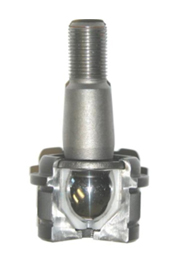 Description:
XRF ball joints are built to perform under the most severe conditions like the oil patch and logging sites.
XRF Ball Joint Features:
* Cold forged ball stud of SAE4140 steel
* Stud heat treatment for omni-directional strength
* Triple lip boot seal to keep grease in and dirt out
* Forged housings of SAE1045 steel give XRF ball joints the extra strength to have almost double the stud pull-out strength of our competitors
* XRF Zero-Lash ball joints have a ball stud that is fully encapsulated in a high strength Acetel bearing offering superior load disbursement and longer life.
Raybestos Pro Grade Lower ball joints offered by Rockauto.com was the best price I could find anywhere. Part # 5051221
I am running these along with the Raybestos Pro Grade outer tie rod ends. Part # 4011689
Ok on to the goods
The M-N extreme inners & pass UCA
Stock vs M-N extreme
The XRF dr side UCA
Comparison with stock
I haven't seen much on these upgrades for the 2nd gen IFS, so I just thought to share with you what I have found.
These parts have just been installed and after the alignment is done, a good shake down run is in order. I will add to this thread as needed for updates.