Elite Movie Star
Elite Explorer
Joined

September 1, 2002
Messages

14,056
Reaction score

1,018
City, State

Lake View Terrace, CA
Year, Model & Trim Level

'91 Navajo '99 X '19 Rngr
The California End of Summer Run.
Join us for a weekend of Good Off-roading Good fishing and Good Company!
This run is going to be for everyone! Even if you're a streeter and want to do a little camping and fishing and see what some of offroading is all about.
Where:
Shaver Lake ,Centraly located just east of Fresno, CA
How to get there:
From N. Cal.
Take Hwy 99 South to Fresno. Then take the Hwy 180 East to Hwy. 168 East. Contine up the hill on Hwy. 168
From S. Cal.
Hwy 5 North to Hwy 99 North to Fresno. Then take Hwy. 41 North to Hwy. 180 East to Hwy 168 East. Contine up the hill on Hwy. 168
Once going up the hill. There is a small gas station in Prather, called Tiny Mart. This is the last gas I saw going up the hill. So fill up at the bottom or here. However gas was not cheap here at $2.39 a Gallon for Reg. Not to long after this you will come to a stop sign. 168 contines to your left. Make the left and go north about 14 miles. On your right you will see a big "Napa" sign at Dinky Creek Road. Turn right here and the camp ground is 3 miles north on your right. There will be a "Serious Explorations" sign at the camp ground. There are no other signs there.
Map: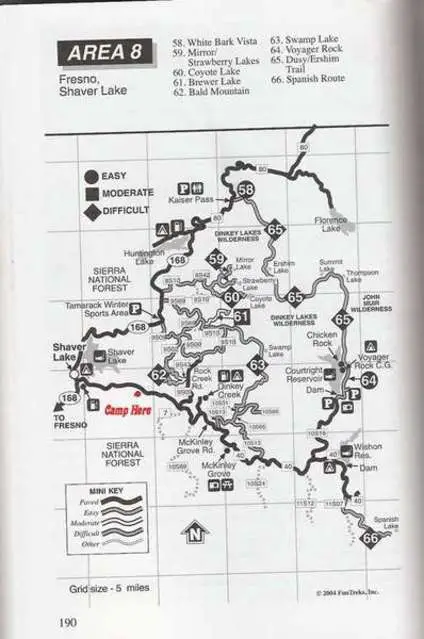 The Camp:
There is NO FACILITYS HEREThat means no running water, or Toilets. However there are both just 3 mile south. It is a nice wooded area with plenty of places to pitch a tent or park a trailer. This is a first come camp, but at noon on saturday there were only 2 people there. So we should be fine.
Fire:
We can have a fire, but fire permits are required. I sugest picking one up at any Ranger station in California. There is no cost, and it is good year around.
You are reqired to carry a Shovel and a bucket to have a fire here.
Staying in town:
For those of you you who don't like the great outdoors so much, there are local motels 3 miles down the road. One of the are the "Musick Creek Inn, (559) 841-3323 or the Dinky Creek Inn (559) 841-3435. More info on the area can be found here
Shaver Lake Chamber
When:
August 27th-29th
From the map below you will see there are plenty of places to offroad.
From easy:
Which any SUV could do.
58. White Bark Vista
64. Voyager Rock
To mild:
For the person who would like to have some fun and use that 4x4
61. Brewer Lake
To Difficult:
For all the Hard Core guys
59. Mirror/Strawberry Lakes
60. Coyote Lake
62. Bald Mountain
63. Swamp Lake
65. Dusy (we will not be doing this trail do to length and time)
66. Spanish Route
Eqipment
There will be a pot luck dinner Saturday night.
Sign Up Here
Signed up So Far:

9
Stic-o
Rick
Positive Vibes
My93X
Bobby Locs
Clarkkent
Bkenndy
Golaith
Mendonca00
Please bring Firewood!
Let's Wheel!